Today I am linking up with Stephanie's linky party:
A Thankful for Blogging Linky Party
I felt today was the perfect day to acknowledge those key people who have been helpful to me in my first year of blogging!
As I come up on my ONE YEAR ANNIVERSARY, I am very thankful for so many people I have had the chance to meet and collaborate with! I believe blogging has helped to improve my teaching (there are soooo many resources and soooo much information) as it also helps keep the light of teaching enthusiasm bright! If it weren't for me stumbling across Charity Preston's Teacher Blog Traffic School, how to start a blog that can generate real traffic would've been a mystery to me! Once I bought her tutorial vidoes and was added to the secret Facebook group.....OH MY GOODNESS....All Heck Broke Loose! That is when the collaboration took off and the blogging tips were endless. Learn more about Charity's video by clicking on the picture!
That is also where I met my bestest blogging buddy, Selena from Classroom Magic! She was instantly supportive and always so positive, we did a few projects together and have been buddies ever since. Selena lives far away from me...an airplane ride away....and I am almost positive we would have never met if it weren't for blogging but I am very thankful that we did! Visit her blog, she always has a great idea (and she is super sweet)!!
I am also very thankful fro Queen Bee! She is the author of the blog
On the Road to Accomplished Teaching
and she was one of the mentors I worked with while working on my National Board Certification!!! She read my writing and provided direct and honest feedback! When I went to my writing sessions, I would look for her FIRST!! I had other great mentors, but they don't have blogs!! Queen Bee's blog is great for any teacher looking to improve their craft or for professional reading. Stop by her blog for great teaching tips!!
I am also thankful for finding Angela Watson! She is also a great resource when looking for information on the National Board process. She is an author and TEACHERpreneur! She has a great blog full of a lot of information! Check her out when you get a chance!!


Click Picture to Visit
I cannot forget to mention the very supportive and oh so helpful members of my Top Teachers group! This group is a--ma---zing! It is made up of bloggers all over the world, including some of the top sellers on TPT (Yes, Deanna Jump is a member : ). We not only socialize, but also collaborate, share ideas and tips, help each other out and especially support each other when necessary. It is like the online faculty lounge for the "glass is half full" group! Not only do we have a
collaborative Facebook page (
where you can get links to freebies and giveaways, we also recently started a collaborative blog. Stop by and visit, there are ton of excellent teachers!!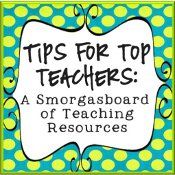 Everyone in the teacher blogging world has encourage, supported, and/or inspired me in one way or another! I am very thankful to have experienced such wonderful things through blogging. I have learned so much and I have been able to share great things with all of you! Most importantly, THANK YOU for stopping by from time to time : ) Have a wonderful day!!
Don't forget the TPT sale that starts on Monday!!! I will have new items in my store marked down JUST for the sale! Don't forget to stop by!!