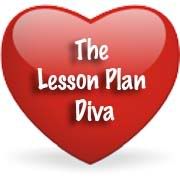 The Lesson Plan Diva is hosting a homework linky party! I just had to jump on this one because I have some pretty strong views on homework! #1 I don't like it. I am not a fan of homework in the younger grades. I do, however, feel strongly about assigning on-going activities/small projects that engage students and require them to practice learned skills on their own. The goal for homework should be to reinforce learned skills so that the students can work toward mastery. However, if a student is struggling with a particular skill and (in my experience) if they don't have anyone to really help them at home, the assignment is more like "busy work" and not beneficial. #2. If I assign worksheets every evening, homework is not as meaningful because I do not have the time to grade homework every day. Honestly. I am not grading 2-3 different worksheets from each child everyday on top of everything else that I have to do. Especially when I know that it is always a possibility that this doesn't really reflect what a student is capable of doing independently. And, if I can't grade it and provide feedback, in my opinion, it isn't meaningful. #3. WE WORK HARD IN SCHOOL ALL DAY! We work hard in my class everyday. There is always a lot going on. I teach bell to bell. I try to keep my students engaged ALL day long because not only is what they need to be successful, but it also helps to keep unnecessary behavior problems to a minimum. I know at the end of the day I am exhausted. Seriously. And I know my students are as well. Aside from practicing math skills and reading for at least 25 minutes every night, I don't find it necessary for them to go home and have to work on more school work for another two hours or so. Is this really beneficial? Are they really taking it all in?
So, the million dollar question is.........How do I do homework in my class?
I provide students with weekly brainwork activities. These are a set of activities that students have all week to complete. It is almost like a homework sheet but different. I'm not a big fan of homework sheets because again, I'm not grading a stack of worksheets for each child everyday.... But, the brainwork activities are good because they are creating some type of a finished project that requires a process. That means Monday they might work on one or two things, Tuesday and Wednesday they might finish up another step or two and by Thursday they are completing the final steps. So even though this is something they have to work on everyday, I only have to grade the finished product. I like to see their rough drafts and outlines just to see how they developed throughout the week but again, and most importantly, I only have one thing to grade from each student. This also works for me because truth be told, some of my students just don't get the support they need at home. This could be for many different reasons but whatever the case may be.....some need more support than others. So, my students have the option of coming up at lunch and/or staying after school to get the support or use the materials that they may need. They have ALL week to do this. With this said, there are no excuses at the end of the week for not having their assignments done.
I also require that my students read for a minimum of one hundred minutes per week. They can choose to break this up anyway they like. But by the end of the week, they must have a total of 100 minutes. I have found that many students actually read longer. I do it like this because I am allowing my students to take control and have a sense of choice. I know that they should be reading nightly for about 25 minutes; however, again, being aware of the diverse living arrangements in my classroom I understand that some students may not be able to read nightly for whatever reason. It is their responsibility to make sure they get their time in. My school participates in the Pizza Hut Book It! program. At the end of the month each student receives a coupon for a free personal pizza if they total 100 minutes or more for each week.
Download my brainwork letter and this week's activity (a time line worksheet and Powerpoint outline). Also included is this month's reading log.
How do you do your homework? Join the Lesson Plan Diva and link up your post! Share your ideas and read about what others are doing : )
Enjoy: )